Thank you for returning to 50 Days to 50 Years. Next in our series celebrating the 50th Anniversary of our favorite park is Andi from Bringing the Sunshine. She shines her light on Walt Disney World 1979.  
But first we begin with the year 1975. Gloria Gaynor sang "I Will Survive" and the Sony Walkman was released in Japan (cost: $200!). "The Muppet Movie" hit the big screen, and my family headed to Tallahassee, Florida for my step brother-in-law's college graduation. Of course, I was more interested in an ear hat than a mortarboard. Why? Because after the commencement festivities ended we were driving to Walt Disney World!
Magic Kingdom in 1975
My first trip to the World was in 1975 with my mom and her best friend's family – Mrs. Jenny, Mr. Jerry Don, Chip, and Jennifer. It may seem hard to believe, since I was only five, but I still remember camping at Fort Wilderness! We rode the monorail through the Contemporary and sailed on Peter Pan's flight. We were jostled in a jalopy on Mr. Toad's Wild Ride. And rode through Space Mountain with Chip and Mr. Jerry Don. It thrilled and terrified me, and I've been a thrill ride junkie ever since.
Walt Disney World 1979
It was four long years before I was able to visit the World again in the summer of 1979. Nearly half a lifetime for me then! As we rode the monorail from the Ticket and Transportation Center through the Contemporary, I vowed that one day I would stay there. Even THEN I knew I needed and be completely immersed in the Disney magic. (That is how I remember it – don't judge me.) The one attraction that sticks out in my mind from that trip was the Haunted Mansion. I was a little creeped out by the stretch room. And my heart raced when the ghost appeared in the car between me and my dad.
Some 1979 highlights include construction beginning on Big Thunder Mountain Railroad and Epcot Center groundbreaking. Plus, on October 22nd of that year, the Magic Kingdom welcomed its 100-millionth Guest!
Epcot in 1986
That summer, we made the long trek in the family sedan to Walt Disney World for my third trip. I was a surly teenager who now had a younger sister who was six, while I was sixteen. EPCOT was still somewhat new, and the queue for Spaceship Earth was a multi-hour wait. The Challenger disaster had occurred earlier that year, and that stood out in my mind because many of the characters in EPCOT wore space-themed outfits.
1990
I was in college and dating a young man who was from the Orlando area and had been a cast member driving a monorail at Walt Disney World. Visiting the World with him opened my eyes to new magic and helped cultivate my love for Walt Disney World. Disney's MGM Studios (now Disney's Hollywood Studios) had opened one year earlier. I enjoyed the Backstage Studio Tour – it was actually used for filming in those days – and my beau and I were chosen to participate in The Monster Sound Show.
1998
My next trip to Walt Disney World was as a relative newlywed visiting with my husband (not the monorail driver!) and some friends. Animal Kingdom had just opened two months earlier, and since it was June, it was packed! We covered the parks by day and ventured over to Pleasure Island by night. That trip was my first character dinner – Pooh and friends at The Crystal Palace – and I'll never forget it. We had a late reservation and finished just in time to watch the fireworks from the restaurant's porch. I climbed aboard Mr. Toad's Wild Ride, knowing it would be the last time.
A Special Point of View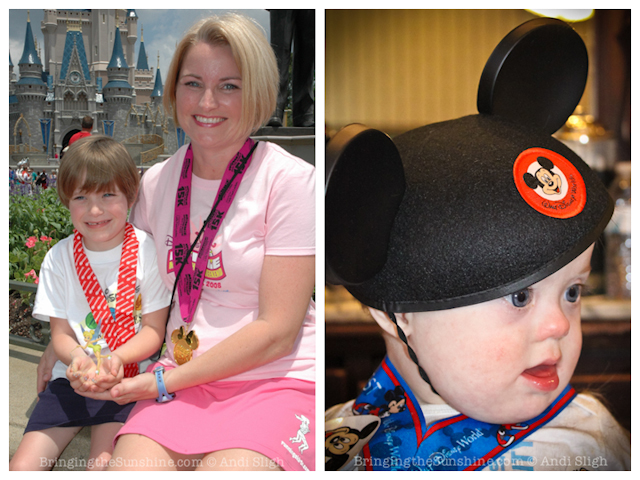 Having children gave me the opportunity to view Walt Disney World through an entirely different lens. I first took my daughter just a few weeks before her third birthday, and my son's first visit was earlier this year (he had his first haircut at Harmony Barber Shop on Main Street USA). I've run many of the endurance races there, and both my children have participated in kids' races, as well. One of the most memorable moments was in 2009 when my daughter, who has cerebral palsy and can only walk, not run, was called out by the emcee at the Princess Weekend kids race. She encouraged everyone in the stands to cheer for my special daughter, who was plugging along at a steady, but tediously slow, pace. I've always loved Disney, but it wasn't until I had two children with disabilities that I realized what a special place it is.
We now visit Walt Disney World every year – multiple times if we can squeeze it into our tight budget. I'm thankful that Disney offers so many resort hotel options now. Although I haven't yet fulfilled my vow to stay at the Contemporary (it's still on my bucket list), I'm pretty sure I haven't missed out on any of the Disney Magic.
50 Days to 50 Years
Andi is an ordinary mom living an extraordinary life with a daughter with cerebral palsy, a son with Down syndrome, an adventurous husband, a wild Westie, a camera, a worn out pair of running shoes, and a slew of Disney memorabilia. Find her at her blog, Bringing the Sunshine. Thank you for sharing your personal memories from Walt Disney World 1979!
And we are pretty sure that Andi is an extraordinary mom who is witness to the untold magic; Walt Disney World is a special World, particularly for special families… If you have a free moment, please visit Parents Magazine and cast your vote for Bringing the Sunshine in the Best Special Needs Blog category.
Thanks for stopping by today. Tomorrow, Beth and I welcome Lisa @DisneyExplorer from Beyond the Attractions, who introduces us to a new decade of Disney- 1980.